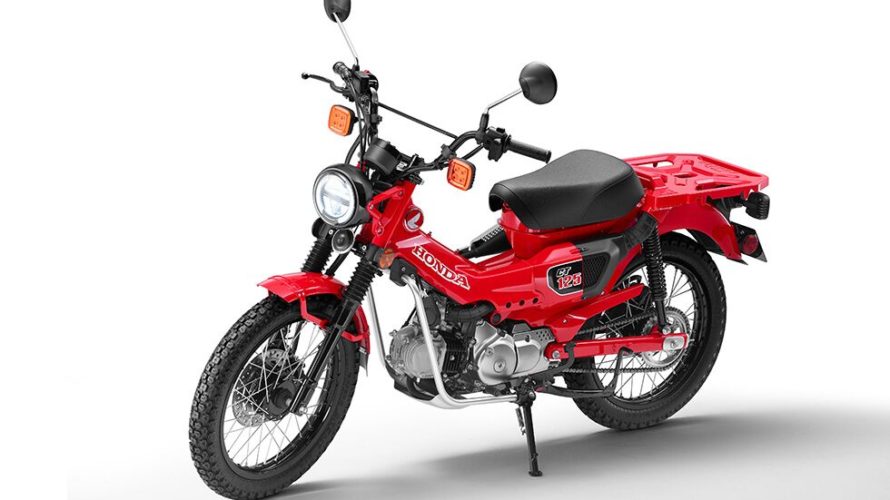 It's been confirmed: The Honda CT125 Hunter Cub will enter production, first for the Japanese market, and then (hopefully) the rest of the world. But what will we get, exactly, with the revived "postie bike" design?
We've actually got a fair bit of intel on the CT125 already, partly because it uses an engine we're familiar with. The CT125 has the same air-cooled four-stroke single-cylinder as found in the Grom; Honda also uses this engine in the new Super Cub, the Monkey, and the Wave scooter. That engine puts out about 9.5 horsepower at 7,000 rpm, and 8.4 lb-ft of torque at 5,500 rpm. Word on the street is, the CT125 makes even less power, thanks to the revised air filter (8.7 horsepower, 8.1 lb-ft of torque, according to Honda's Japanese website). That's not much power, but if you start digging, you'll find you can get all sorts of fun parts for this engine—big bore kits, Power Commander re-tuner, performance clutch, cold air intake, and lots more. You can also buy a performance muffler for the Grom engine, but it probably wouldn't easily fit the Hunter Cub's upswept exhaust system.
Because it's fuel-injected, it will probably be tricky to tune all those modifications properly (you'll need an EFI tuner), but if this bike is popular enough, the information will be out there eventually.
The Grom has a four-speed gearbox, with a normal motorcycle clutch. The old CT models typically had clutchless semi-auto shifting, and so does the new Hunter Cub, with centrifugal clutch. All the rider needs to do is bang the gearshift up and down between the cogs, with no worries about feathering the clutch from a stop. This should be an easy bike for learners to ride.
The semi-auto clutch is a great example of how Honda's gotten small details right with this bike, not just the big ones. In an age where manufacturers are eager to emulate a vintage aesthetic with a skin-deep repurposing of current technology (see also: Suzuki VanVan 200), the Hunter Cub has plenty of the little features that made the original CT so great. Along with the semi-auto clutch, there's a kickstarter, something that's almost impossible to find on a modern motorcycle of any size. There's a small skid plate on Honda's prototype at the shows; maybe that's an optional accessory, but at least someone in the company realized it was a necessity, and included it. There's a sensible rack on the back, and the exhaust "looks right" in photos, although that's a detail that's hard to pass final judgment on until you see it in person.
CT125 has ABS, something that wouldn't have been dreamed of for the CT110. Availability may depend on what market you're in, but it seems Japan will get antilock brakes up front, and no ABS for the rear brake, which is a sensible approach for a budget bike with offroad intentions.
One disappointment: The CT125 weighs 264 pounds, while the previous bike only weighted 240 pounds. Sadly, this is a trend, as many dual sport machines have put on weight in recent years, when compared to bikes from the 1980s and 1990s.
So far, we have not heard anything about release or pricing outside Japan. In that market, the CT125 will supposedly be priced around the region of 440,000 yen, roughly $3900 US ($6,900 AUD, $5,750 CAD, £3,438 GBP).
Honda will also have some accessories for the machine (heated grips, topcase, auxiliary plug), so you can throw some extra money at the Hunter Cub if you want to trick it out. No doubt the aftermarket will quickly to respond to this new bike.